The kitchen is one of the trickiest and messiest areas in our homes particularly if organizing is not your cup of tea. Imagine what it would be like if you are a person who loves to cook and host every occasion you could get yourself into. This means you have all the kitchen utensils and equipment for every dishes there is. Or maybe you are someone who just starting to live on your own and being able to do things by yourself for the first time including cooking a decent meal for yourself really excites you. So you go on a hunting mode and grab the kitchen tools and gadgets you think you need. But there is one problem: You get overwhelmed with the intricacies of kitchen utensils and you thought, how am I going to squeeze in all these tools in my limited kitchen space without going nuts? So what can you do about it? Don't worry. There is a solution. The cool thing about it is that the answers are on your fingertips. There are tons of easy, innovative and creative ideas and tips readily available on the internet that will help you in your quest of organizing even the smallest gadget you have in your kitchen. Today, you will see
20 Amazing DIY Kitchen Utensil Holders
that are both practical and functional. It will help you optimize your kitchen space, limited or not, without sacrificing your sense of style or breaking your bank. All it takes is your creative skills and keen eyes to spot the things that are lying inside your home and turn it into something special. What are you waiting for? Grab some paint, some old door or tin can you may find not so useful at all at the moment and let's get busy!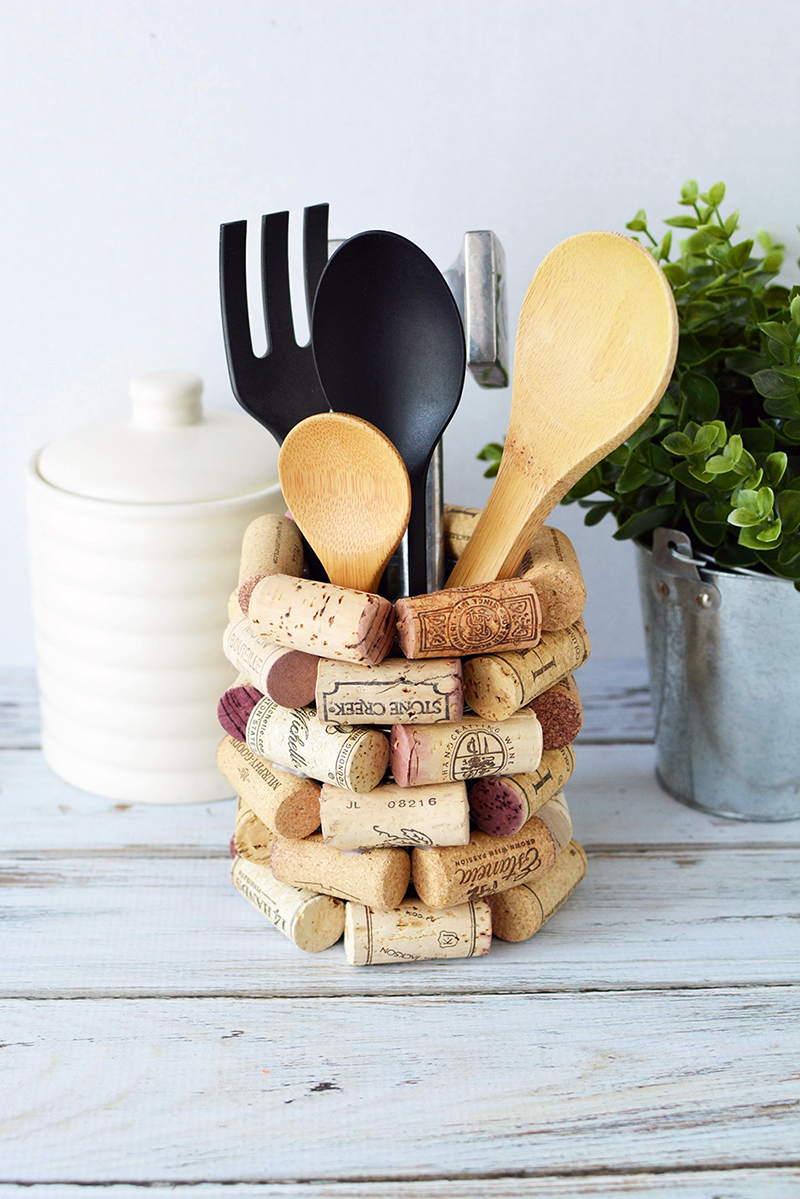 A Magical Mess If you are a wine drinker and you somehow find yourself owning a lot of wine corks, then this project is sure to put those gems to good use. It will lend a striking accent to your kitchen while keeping your utensils neat.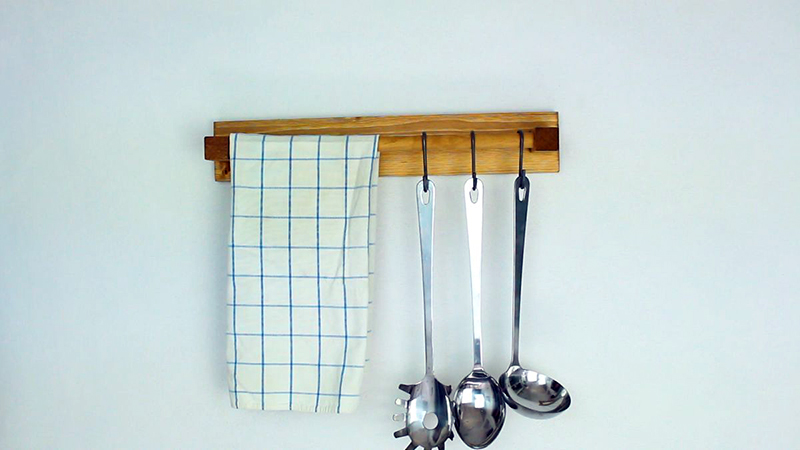 Homedit Mounting storage is a wise move for those with limited spaces. This wooden holder could give you a lot of storage options. You may hang buckets to hold more kitchen tools. You may simply hang your towels or add S hooks to place your utensils orderly. It is really up to you, but I am telling you, this one will not only help you free up some space and provide storage but will also lend a rustic warmth and style to your interiors. It is easier than you think. Here is a video of how ridiculously easy it is.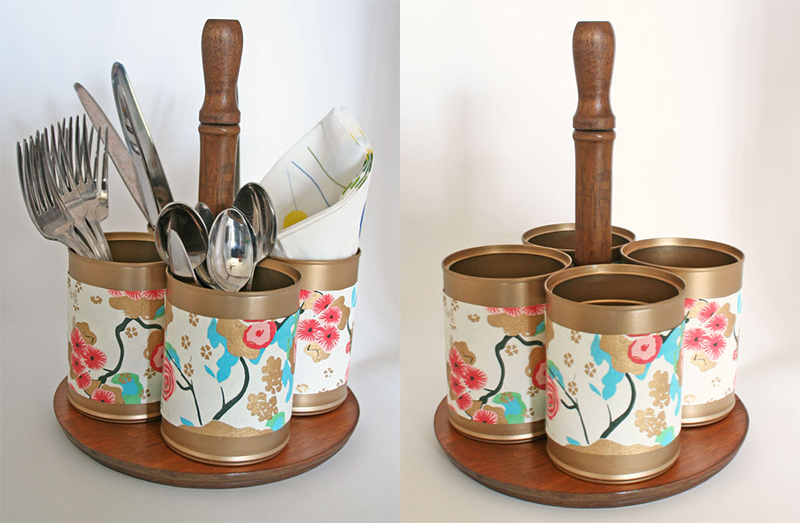 Rhapsody In Rooms This pretty DIY tin can caddy is sure to give your kitchen table a dainty look and a place to store and display your cutlery in style.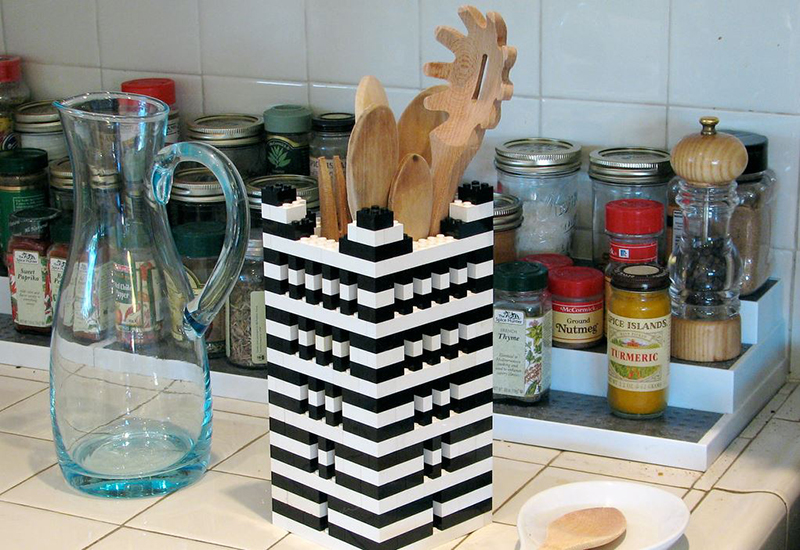 Lenore Edman If you have Lego pieces just lying around the house, then call on the kids and together you can make a fun and creative project like this one. The striped castle design above is inspired by the Duomo di Siena. A cathedral in Siena, Italy. Amazing, isn't it? You got a striking and unique accent in your kitchen while serving as an organizer to free up some of your drawer space.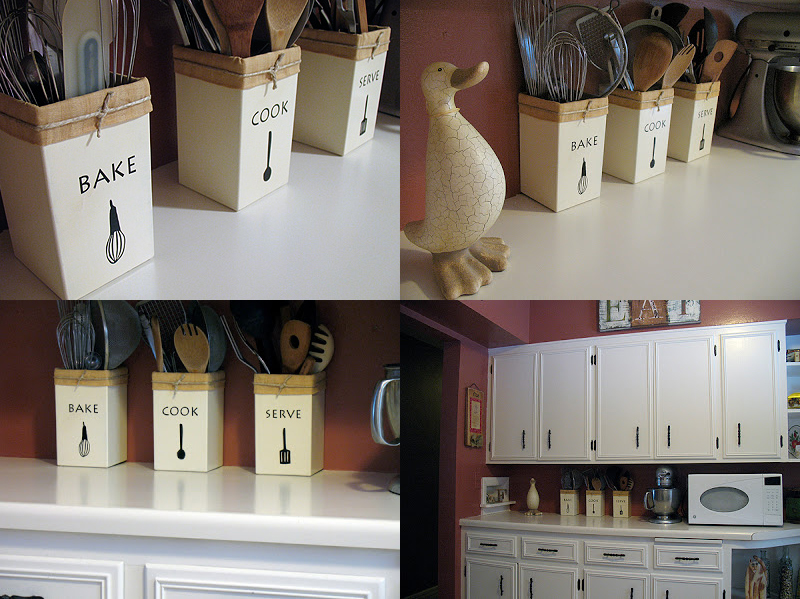 Crafts By Amanda Rest your overwhelming kitchen tools separately in these vintage-chic boxes that are very easy to make. All you need are medium size boxes (or whatever size you desire, depending on what you are planning to put in there), paint, fabric, hot glue, twine and more of your imagination to capture the design you want. Just like that, you have made yourself an additional storage full of your personality and style.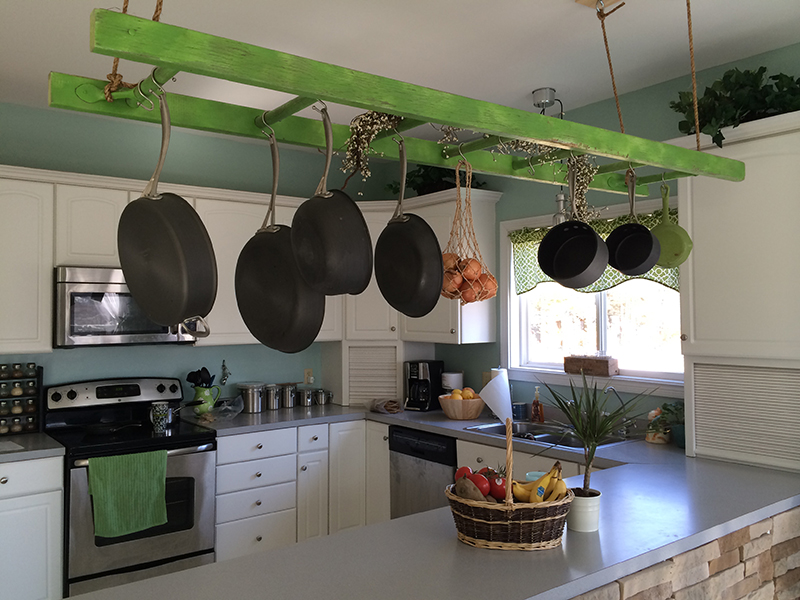 Fab From Drab Create an eye-catching accent to your kitchen that will provide you sufficient storage space while showing off more than your beautiful pots with this hanging ladder.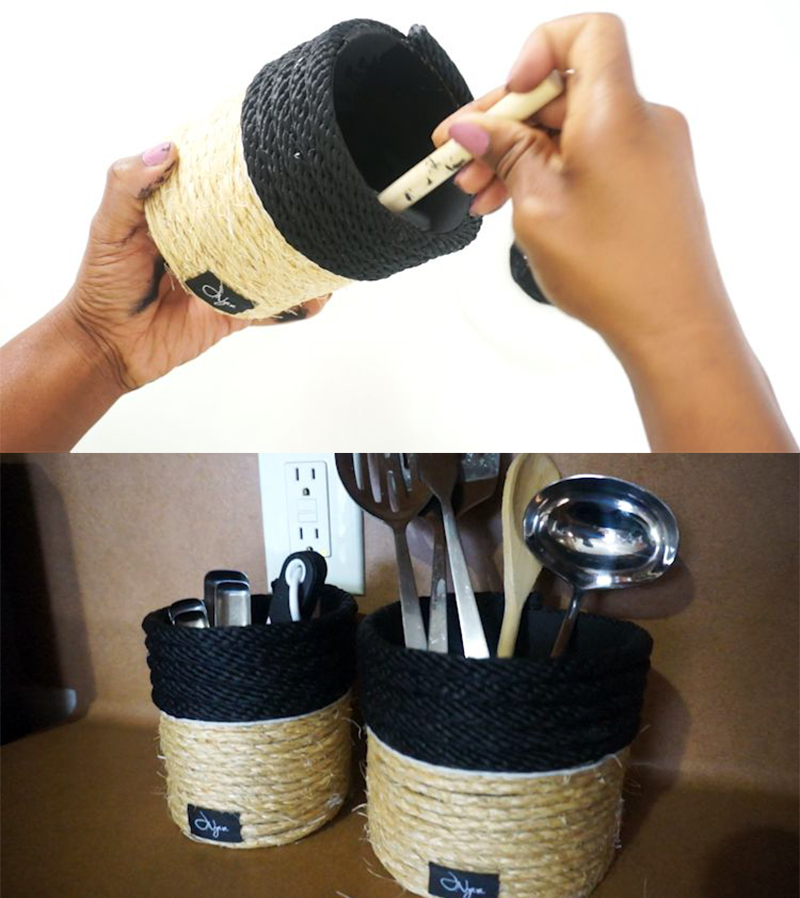 Hometalk Make a beautiful and refreshing table centerpiece or countertop organizer with these rope canisters. It is very easy to make and there are a lot of wonderful designs you could create out of it if you are feeling extra crafty. You could use different tin can sizes, depending on what you want to store, different rope colors, add burlap or maybe toss some lace, too and… Bam! You made yourself a unique holder! Check out what other things that you can make using tin cans.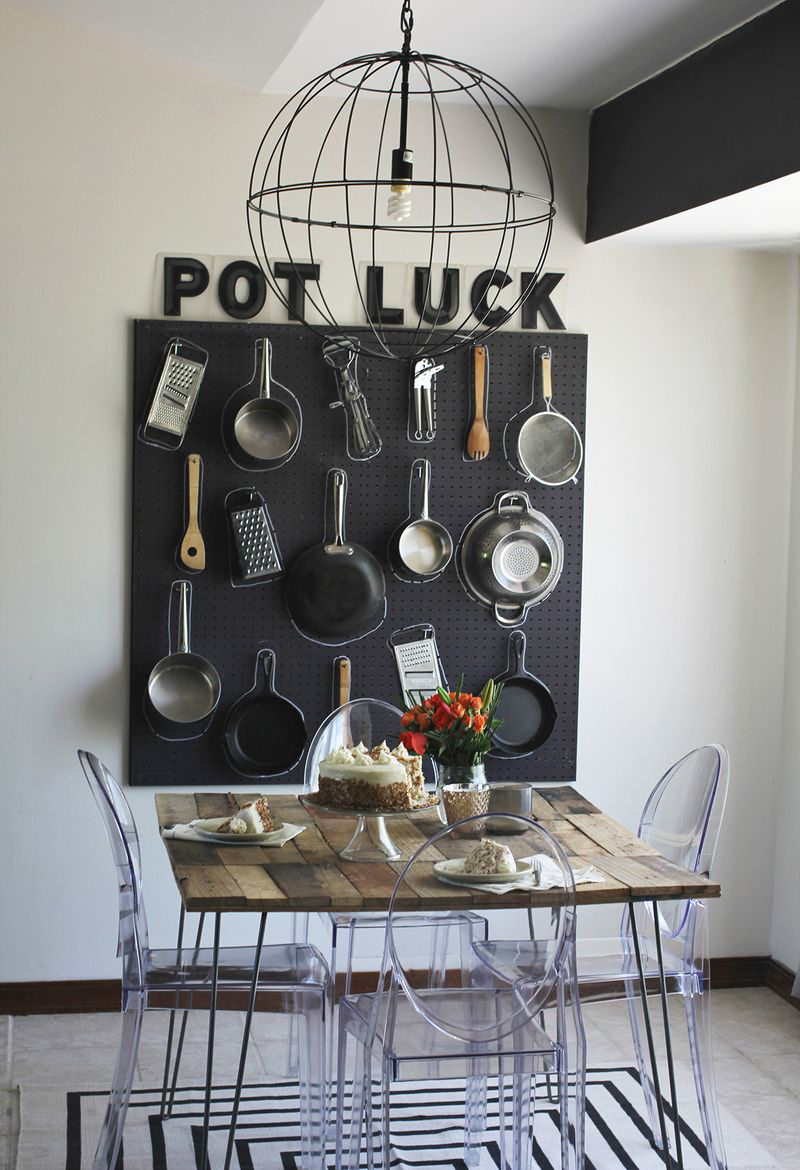 A Beautiful Mess Add character and drama to your space with this black pegboard displaying your kitchen collection! Look at how it makes this dining room pop. It sure makes any interiors standout and adds an eccentric flair not to mention provide an ample vertical storage solution.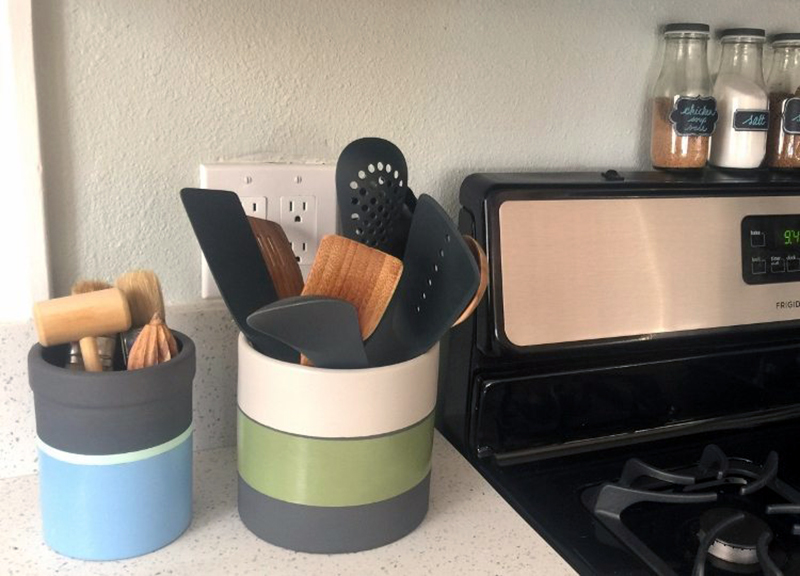 DIY Inspired.Com | Dinah Wulf This project is simple and very easy to make. All you need is a vase, a couple or more if you have an unused collection of those, why not? I mean the more vases you have things you can organize. Different colors of paint to create a stunning stripe effect, painter's tape and credit card (to smooth down painter's tape) or any card for that matter. You will be amazed at yourself and the work that you did for giving your kitchen a pop of colors and style that is functional.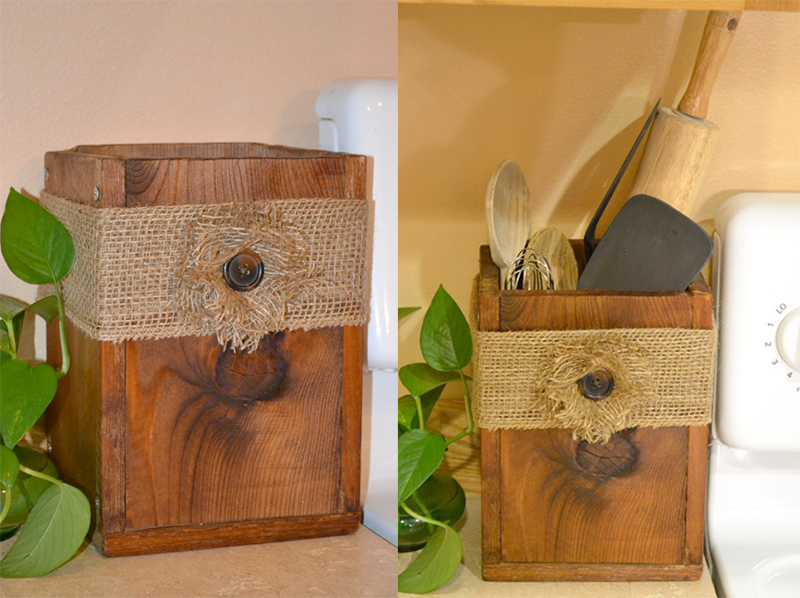 The Frugal Girls Add a warm, rustic touch to your kitchen interiors with this wooden box that could be used to hold anything that you need.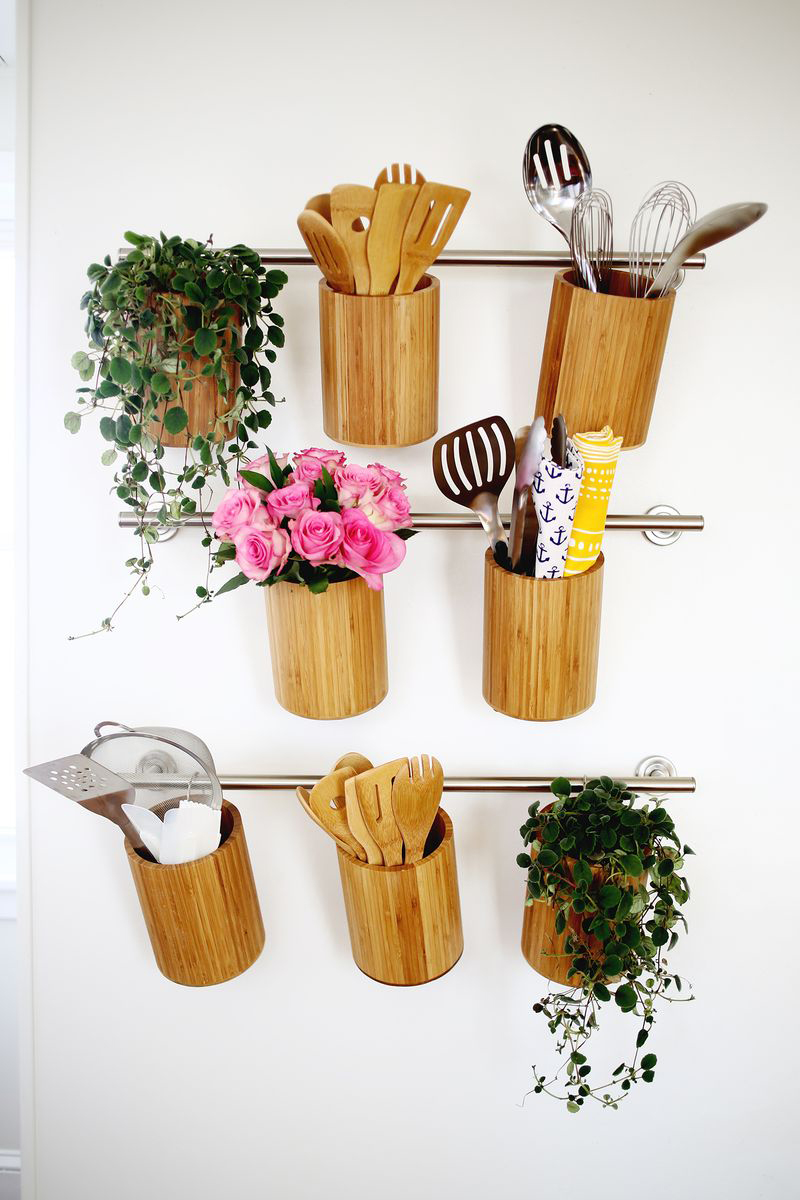 A Beautiful Mess Create an interesting accent in your kitchen by adding this boho-chic vertical organizer that will definitely lend a wonderful contrast (if you have a light colored wall) like the one on this photo. It will give you a modern bohemian vibe with a stylish look and exquisite texture. Also, it offers a lot of storage room for your kitchen supplies. You can even put flowers in it or succulents to create a more romantic and inviting touch to the whole scheme.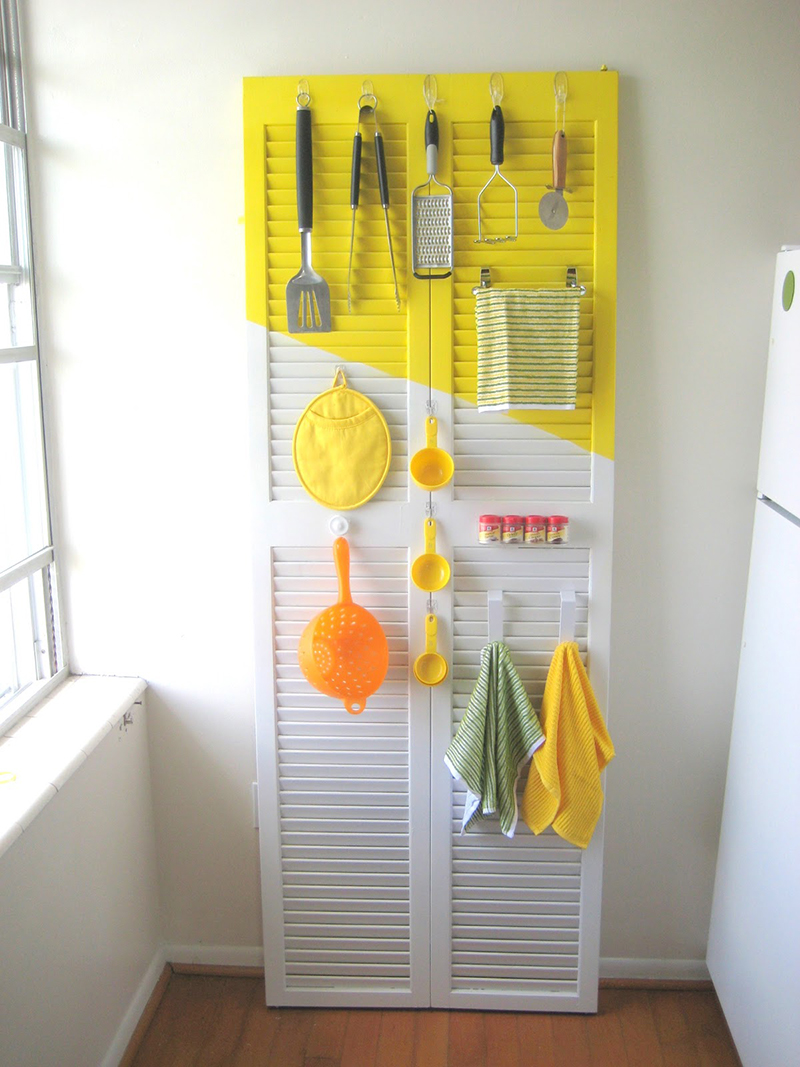 C.R.A.F.T This charming door organizer is great if you do not want to put holes on your walls, have limited space to put up a shelf, want to store a lot of things that would typically go in drawers and add a pop of fun and youthful vibe to your interiors.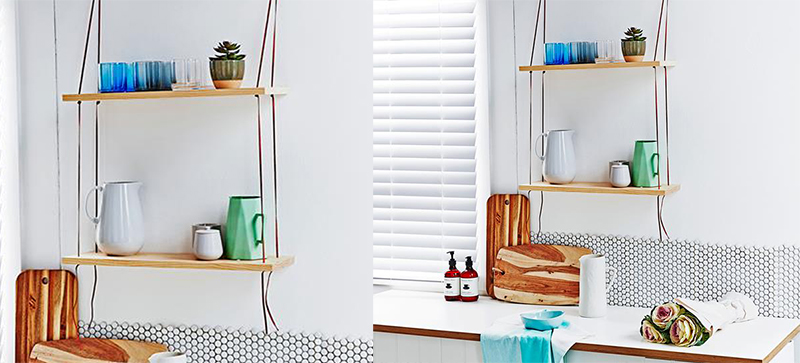 Homes To Love Hang in there while staying on point and stylish! This leather swing is sure to give your kitchen gadgets a sophisticated storage solution with that is very easy to make.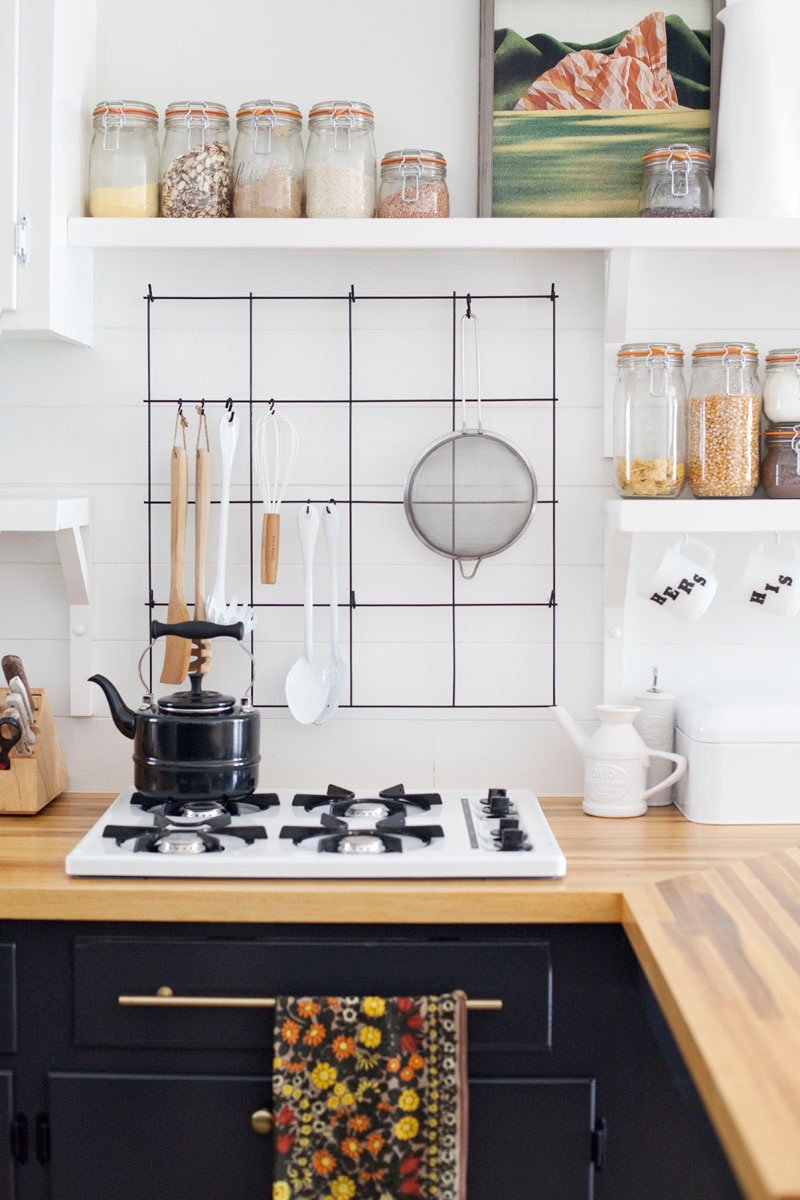 A Beautiful Mess This one is a no-brainer. Really! Grab a wire mesh and clean it up. Spray some rust-preventing primer, coat it with epoxy paint in the color of your choice, add those S hooks, hang it on your kitchen wall and you made yourself a suspended, easy-to-reach-no-more-bending utensil storage that is practical, functional and has a quirky look.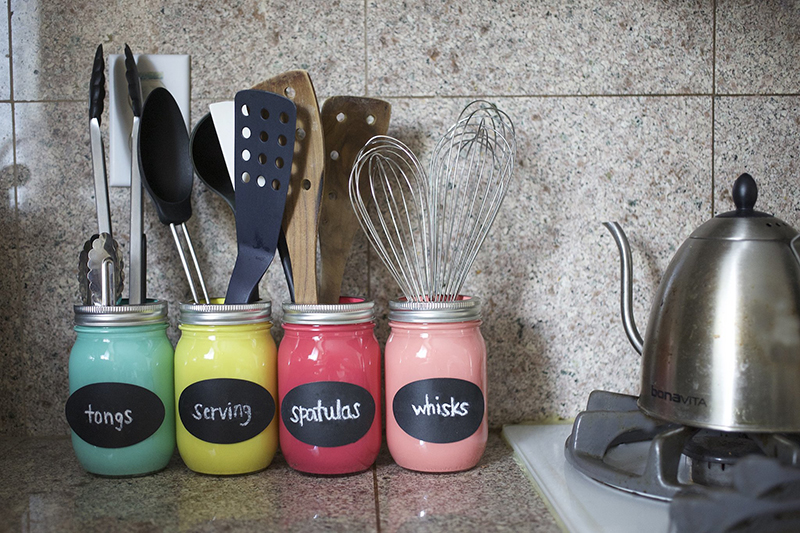 Popsugar Living Add an instant mood booster with this adorable mason jars organizer. It adds a pop of cheerful, pastel colors that could brighten any space. This one is also a versatile storage that you can use in your bathroom, bedroom, and living space even in your dining table as a playful and bold statement. Check out how mason jars look like when used as an outdoor lighting!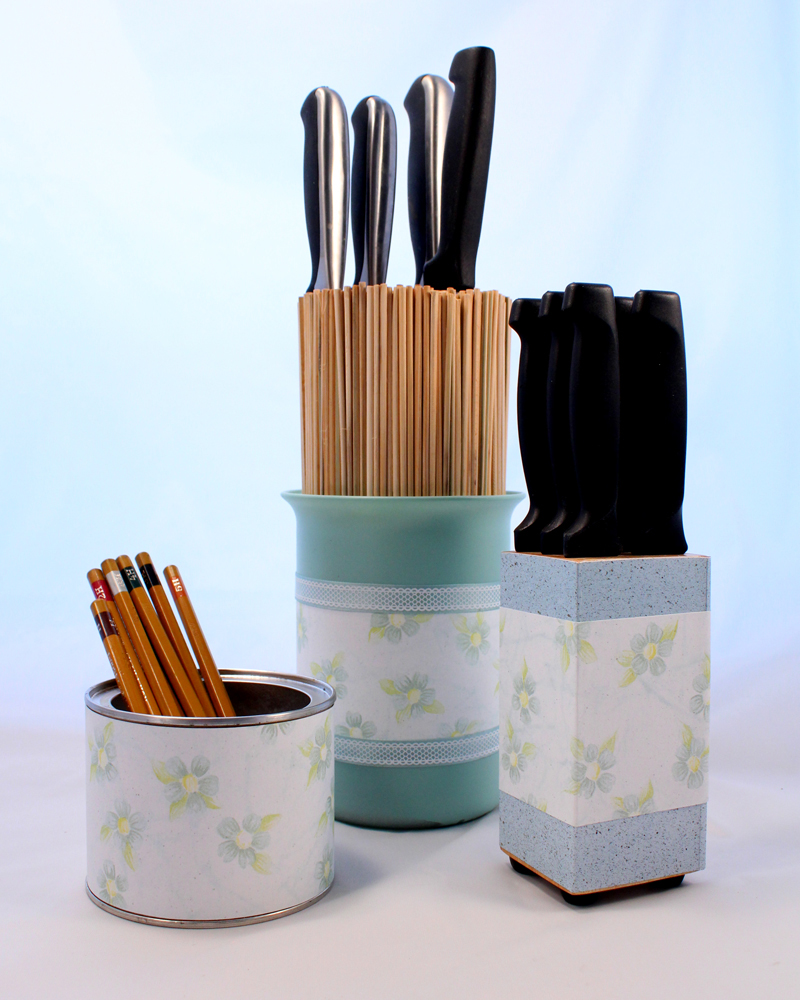 Another Bright Idea – Felicia Kramer Another simple and easy do-it-yourself storage solution to upgrade your kitchen space that will keep your fingers safe. Never let your knives set loose in your kitchen especially if you have kids around. That is a major no-no! So get a bunch of skewers, an empty glass container, spray paint, some scrapbook paper and some ribbon trim and glue it on, and you have a lovely, safe place for your knife to get stored. You're welcome!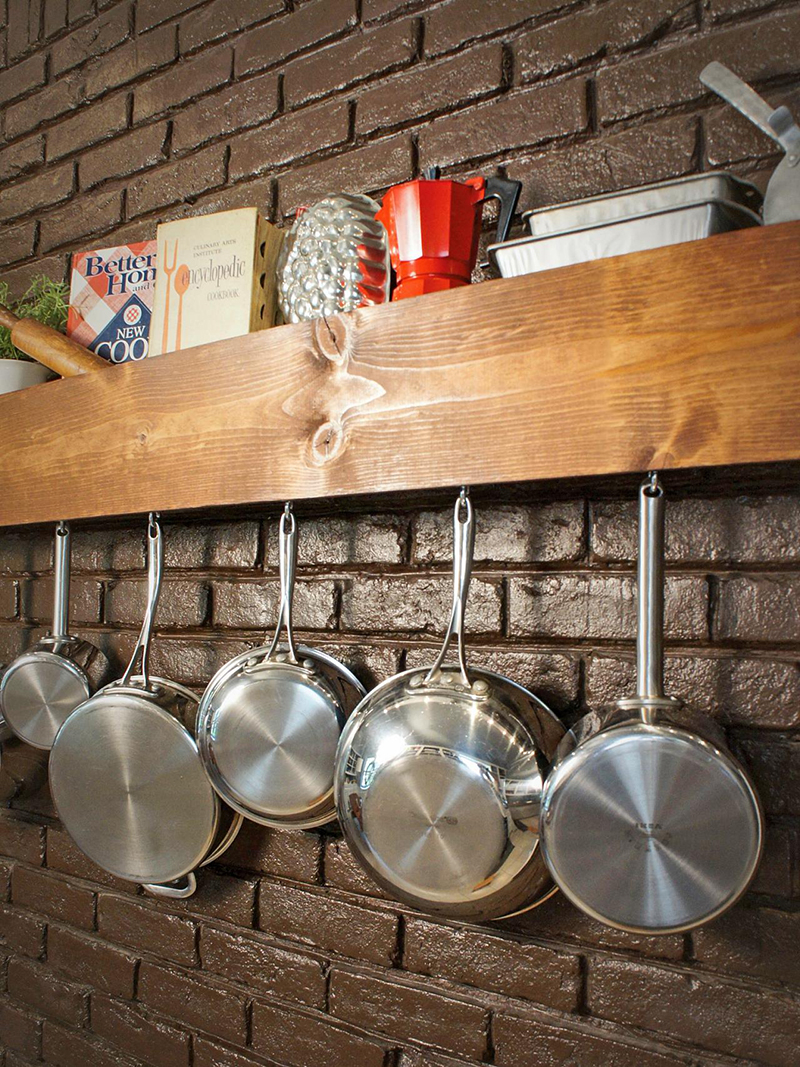 HGTV – Sam Henderson Who doesn't love inexpensive multifunctional solutions for their homes? This project is a perfect fix for those who are in need of a practical solution that does not compromise style.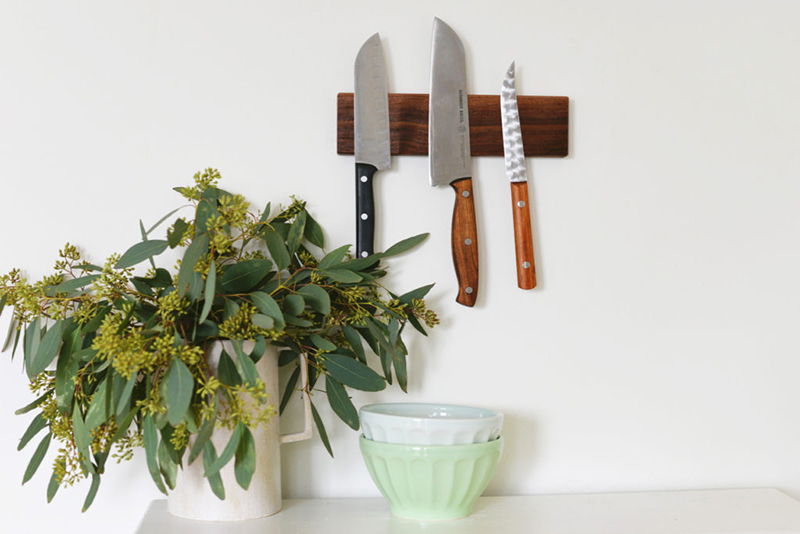 Homedit If you are up for a clever way to store your kitchen cutlery, this creative magnetic knife holder project is the one for you. It is sure to lend a futuristic touch as if your knives are floating and helps get rid of that huge drawer space or counter space you can use for something else.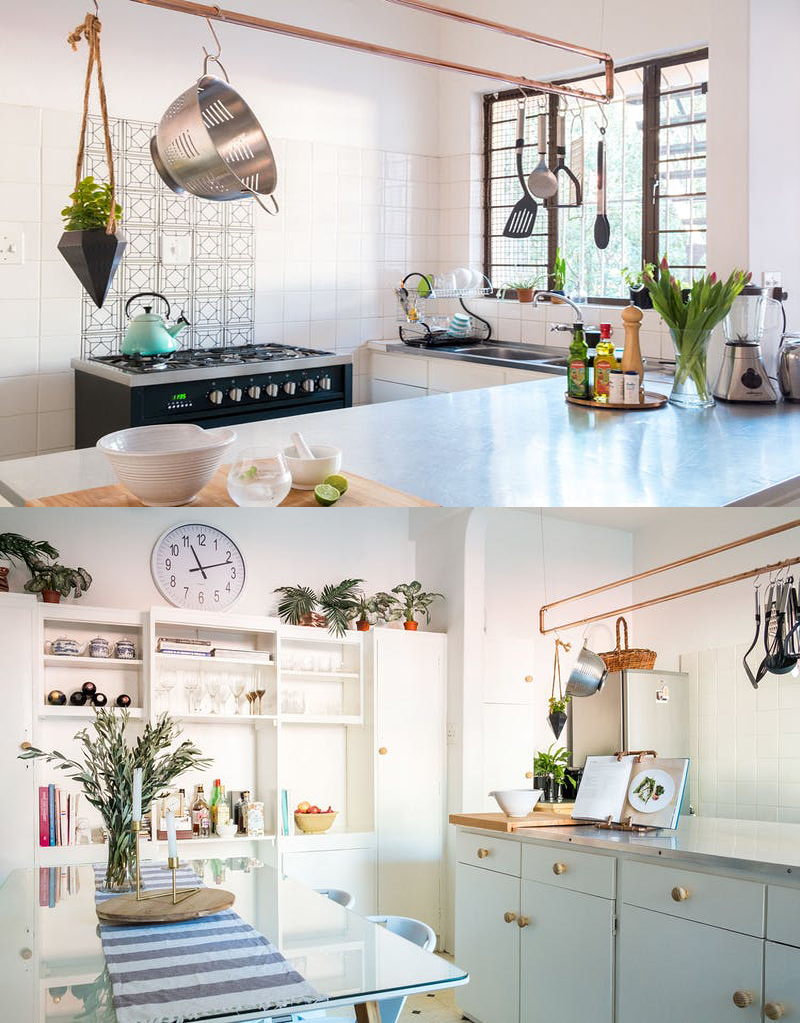 Apartment Therapy Add a modern look to your kitchen space with this copper pipe project that doubles as a hanging rack to cater for your storage needs – showcasing your pots and pans together with some beautiful hanging decor.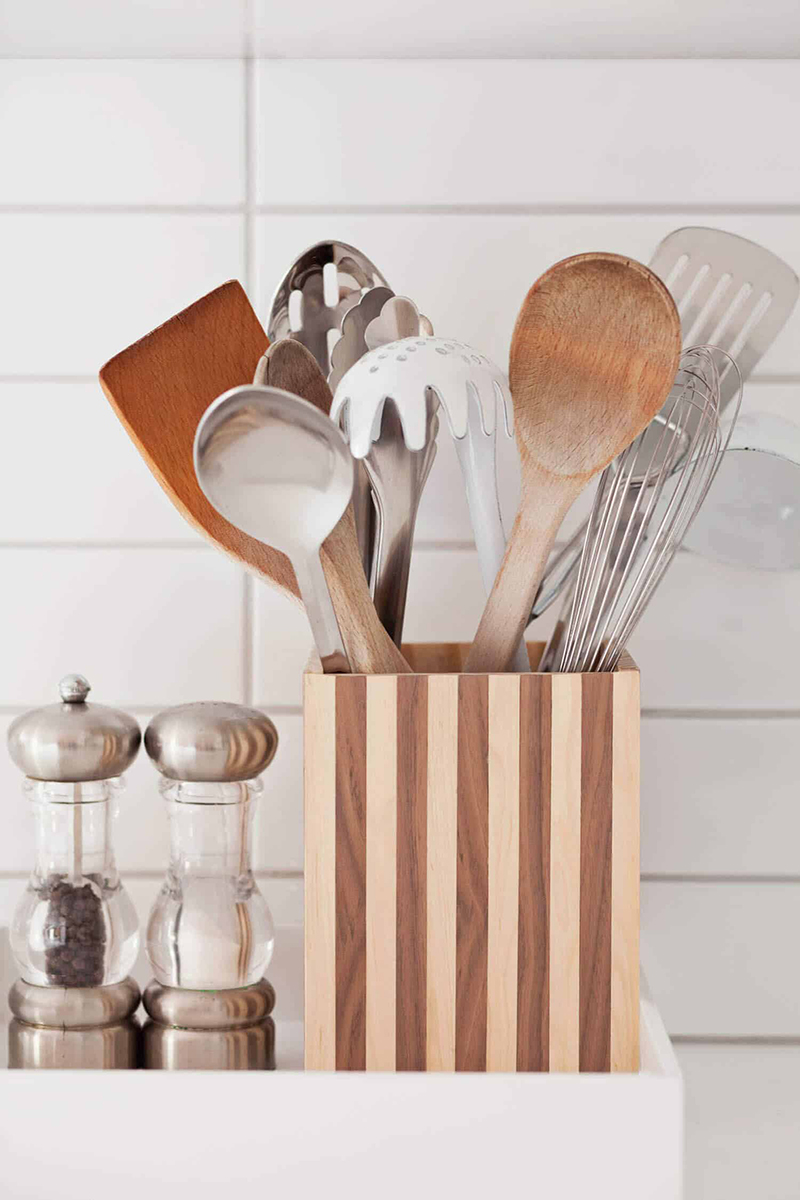 A Beautiful Mess Do you need a whimsical yet sophisticated element to add to your kitchen interior? This simple craft will leave your space the additional storage it needs and an eccentric flair it craves. I got to say, these easy do-it-yourself projects are very impressive, cheap (in some cases, may not cost anything), and would give the style and functionality you need. There are a lot more hacks and solutions you could creatively do. Take a cue from the list that I showcased today. A lot of things we use every day that we considered junk could actually be turned to good use. You just have to tap into your crafty side and know what you really need and what style you are into and you could be a surprise of what you can come up with. Mots clés: DIY kitchen, DIY kitchen accessories, DIY kitchen storage, DIY kitchen utensil holders, diy utensil holders, kitchen tips La source: homedesignlover.com